Peripheral Arterial Disease (PAD) is a serious condition that occurs when blood flow through the arteries is decreased due to the build-up of plaque along the arterial walls. This narrowing of the arteries is referred to as atherosclerosis. PAD most commonly occurs in the legs, feet, and toes. It is estimated that approximately 8 to 12 million persons in the United States are affected with PAD.
Persons who suffer from Peripheral Arterial Disease (PAD) have an increased risk of heart attack or stroke. Additionally, if left untreated, PAD can lead to critical limb ischemia. Critical limb ischemia (CLI) occurs when not enough blood is being delivered to the leg to sustain the tissue. Patients who suffer from CLI are at risk of amputation of the toes, feet, and legs.
Although anyone can develop Peripheral Arterial Disease (PAD), patients with diabetes are among those with the highest risk of developing the condition. However, according to a consensus statement issued by the American Diabetes Association (ADA), many diabetics fail to be diagnosed with PAD due to a lack of symptoms. As a result, the ADA now urges PAD screening for all diabetic patients over the age of 50 and those under 50 who have other risk factors.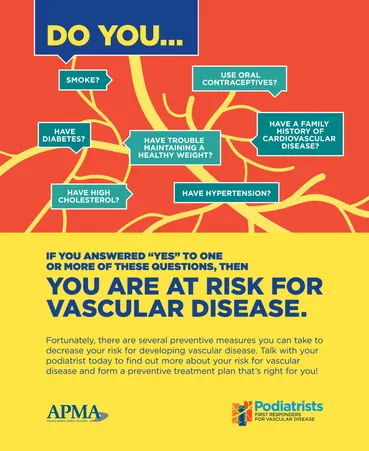 Symptoms of PAD include:
1. Painful cramping in your hip, thigh or calf muscles after activity, such as walking or climbing stairs (intermittent claudication)
2. Leg numbness or weakness
3. Coldness in your lower leg or foot, especially when compared with the other side
4. Sores on your toes, feet or legs that won't heal
5. A change in the color of your legs
6. Hair loss or slower hair growth on your feet and legs
7. Slower growth of your toenails
8. Shiny skin on your legs
9. No pulse or a weak pulse in your legs or feet
What we can do to help treat PAD
If you are showing signs and symptoms of peripheral arterial disease, we would recommend that we see you as a patient. It is important not to ignore these symptoms as often this is an indication that the disease has become advanced.
Initially, we will perform a complete and comprehensive history and physical examination identifying any and all risk factors that may contribute to your condition. We will suggest that you work with your medical doctor to treat any underlying conditions that may contribute to PAD such as high cholesterol, high blood pressure, and any blood clot disorders. We can help educate you on PAD and suggest changes to your diet or lifestyle that may help to increase arterial flow to your feet.
The most important thing that we can do for you is to identify if there truly is decreased arterial flow to your legs and feet. To help us do this, we use a Vascular Ultrasound Doppler machine to listen to your arterial flow. By utilizing this technology, we can hear and see subtle changes in your circulation that may put you at risk for problems.
If your condition is advanced, it may be necessary to refer you to a vascular specialist or interventional cardiologist for further evaluation. There have been many advancements in the treatment of PAD utilizing procedures such as angioplasty, bypass surgery, and thrombolytic therapy.
If you are having symptoms consistent with PAD, it is important that we see you. The physicians at Council Bluffs Foot & Ankle Care are experts in the treatment and management of this condition. Call or text to make an appointment today!