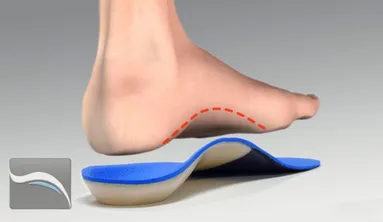 Custom orthotics are specially made devices designed to support and comfort your feet. Prescription orthotics are crafted for you and no one else. They match the contours of your feet precisely and are designed for the way you move. Over-the-counter shoe inserts can add additional cushioning and support, but they're not made to address your foot issues. Only prescription orthotics can accommodate your unique foot structure.
We use orthotics to treat foot problems such as:
• Plantar fasciitis, Bursitis, Tendonitis, Diabetic foot ulcerations, and foot and ankle pain
How Prescription Custom Orthotics Differ From Shoe Inserts

Shoe inserts may come in a variety of shapes and sizes, but they're not custom-designed for your feet. Orthotics are only manufactured after a podiatrist has conducted a complete evaluation of your feet and ankles. A podiatrist will examine your feet and how you walk; he or she will carefully listen to your complaints and concerns and assess the movement and function of your lower extremities. Some also use advanced technology to see how your feet function when walking or running.
The information gathered during the exam will help your podiatrist determine if shoe inserts might be helpful or if you need prescription orthotics. If orthotics are needed, your podiatrist will capture a three-dimensional image of each of your feet. That image, as well as any measurements obtained by your podiatrist, is used to create a set of unique foot supports that will improve your foot movement and lead to more comfort and mobility.
Prescription orthotics are divided into two categories:
Functional orthotics are designed to control abnormal motion. They may be used to treat foot pain caused by abnormal motion; they can also be used to treat injuries such as shin splints or tendonitis. Functional orthotics are usually crafted of a semi-rigid material such as plastic or graphite.
Accommodative orthotics are softer and meant to provide additional cushioning and support. They can be used to treat diabetic foot ulcers, painful calluses on the bottom of the foot, and other uncomfortable conditions.
If you are fighting chronic foot and ankle pain, custom orthotics may be the answer. Call or text us today to make an appointment!